Coaching Learning Zone
A platform for you to explore your curiosity and identify what steps you can take next to continue your personal and professional journey – whether you are new to Coaching, an established Coach or already having an impact actively using a Coach Approach.
"Every day what we do offers people the opportunity to change their lives."
What is Coaching?
Coaching is what unlocks people's true potential. It has the capacity to elevate the achievements of an individual or team by drawing out and amplifying their inner talents. It's a deeply personal skill that relies heavily on communication and rapport to encourage others to become true individuals who are able to go on and excel independently.
Good coaching skills can be learned and applied by anyone. By training to become a better coach, you can become an invaluable asset at home, at work and in the community.
Latest Coaching articles from the ITS Blog

Mastering the Coach Approach
Certified Programmes
Next Start Date: 28th September 2023

We are accredited by the International Coaching Federation as a Level 2 Coaching Education provider (formerly ACTP and ACSTH).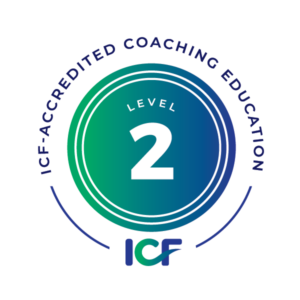 An introduction to Coaching
The International Coach Federation (ICF) defines coaching as "partnering with clients in a thought-provoking and creative process that inspires them to maximise their personal and professional potential, which is particularly important in today's uncertain and complex environment."
We have each been engaged in coaching training for over 20 years. We have trained a generation of coaches and worked with individuals and organisations around the world. We know the benefits this training brings. We also know that coaching is far too important just to be left to coaches! We have found that coaching is much bigger than the 'profession' of coaching. We want to bring these essential skills to everyone, through the Coach Approach.
– Ian McDermott & Pamela Richarde
Why is coaching important?
You don't have to aspire to be a professional coach to benefit from learning more about coaching. After all, without us realising coaching goes on all around us everyday, and most of us are called upon to help develop others at some point, whether that's at work, at home, or recreationally. Whatever we're involved in, we all have the potential to improve our performance and learn new and better approaches. Bringing that potential to light is a specific and teachable skill – and it can be a huge benefit to ourselves and those around us if we take steps to become better coaches.
In our professional lives, coaching is essential in developing our teams, increasing productivity and building on our successes. However, away from the world of work – whether we are involved in nurturing family, encouraging loved ones, helping amateur sports teams or other groups – by adding new key skills to the passion and enthusiasm we already have in these areas can make us highly effective.
What are the benefits of coaching for Individuals, Teams and Organisations?
Maximising potential and building self-confidence to face challenges is critical to meeting demands of the world we live in.
Positive People
Improved self-confidence
Improved relationships
Improved communication skills
Improved Life/Work balance
Increased Productivity
Improved work performance
Improved business management
Improved time management
Improved team effectiveness
Client Satisfaction
Generates learning and clarity for forward action with a commitment to measurable outcomes
99% of companies and individuals are satisfied
96% would repeat the process
(Study conducted independently by PricewaterhouseCoopers and commissioned by the ICF)
What skills can you hope to encourage in others?
Through developing your skills as a coach, you can hope to bring out positive changes in others that include: 
Improving the effectiveness of your communication and relationship skills.
Making real and lasting change.
Engaging with people to get the best out of them, in a way that is empowering for both of you.
Increasing the range of choices and possibilities available to you.
Managing yourself to be in control of challenging and stressful situations and relationships.
Getting more of what you want out of life, being your best self – and helping others to do the same.
What can you learn from becoming a coach?
Through coaching training, you learn about the fundamental drives that influence human behaviour. But beyond these fundamentals, people vary quite dramatically in the ways that they like to communicate and learn. By understanding the motivations we share, and those we don't, you'll learn to bring out the best in yourself and the people around you. Learning to recognise how people differ, and how to communicate with them most effectively to identify and realise their potential, will become an invaluable skill in all areas of your life. So, undertaking coaching training can help two sets of people: those who wish to enhance their ability to develope others both inside and outside the workplace, and also those who may wish to pursue a professional career in coaching.
Become a coach to draw the best out of people
When you use effective coaching skills to create a nurturing culture, you empower the people around you to harness their potential. Watching people grow in confidence and seeing their own skills blossom under your guidance is as rewarding for you in your capacity as it is for them. By learning coaching techniques that make you more influential in all areas of life, you increase your ability to contribute positively to the lives of those around you. 
Become an independent or in-house coach
 There's never been a better time to get involved in coaching on a professional level. Many individuals and organisations are sourcing help from dedicated coaches, whether that's to achieve specific goals, get direction or just become better versions of themselves. This rising demand underlines the value placed on coaching skills and that is helping to build a thriving coaching industry
The modern coaching industry supports roles in a number of specialisms including:
career coaching
coaching in the workplace
executive coaching
life coaching
plus many more
A course such as the coaching training programmes offered by ITS can be a fantastic way to get started. Working towards a specific certificate or qualification can be a great help for anyone looking to start or further a coaching career. In addition to providing valuable training, it demonstrates your qualification and commitment to clients and organisations.
What type of coach could I be?
While there are many distinctions about the "type" of coach people choose to be, in its purest form, coaching is the same regardless of how you are marketed or labelled. A good coach should be able to coach any client in front of them according to whatever agenda the client presents with.
Choosing a niche, however is a great way to help focus your marketing efforts, distinguish yourself from the competition and demonstrate the sectors where you are confident and passionate. Labelling yourself as a certain type of coach will attract a certain type of client ­ – and a clear marketing message will help you get clients.
 With that in mind, let's look at some of the established and emerging fields within professional coaching that you may wish to explore, and some of the commonly associated questions.
Life Coaching
What is life coaching?
Life coaching describes the efforts that someone undertakes to help others fulfil their potential. At the outset, this might involve helping to identify and define achievable personal goals. Being a life coach is a challenging, rewarding, and inspiring career that will take you on your own incredible journey as you help others.
The role of a life coach is to assist their clients in identifying and focusing on their goals, and from there to help build a strategy that gets them where they want to be in life, acting as a source of accountability for their clients. A life coach could be someone that will work with you on just about every aspect of your life, whereas other life coaches may choose to specialise in a specific niche such as health and wellness, financial, retirement, romantic relationships, parenting or careers.
What do life coaches do?
Life coaches meet with clients to pinpoint their challenges, help them to establish their goals and define what success might look like to them. A key skill during this phase is the ability to ask the right sorts of questions and be an active listener. From there, the life coach will give specific advice and guidance, monitor progress and provide guidance and encouragement in the pursuit of the client's life goals.
How to be a life coach
The worrying thing for well trained, experienced and ethical professionals is that no prior training or qualifications are required to set up as a life coach. However, the International Coach Federation (ICF) exists to ensure professional standards and ethics in the industry to give clients peace of mind as to the quality of the service offered.  Certain attributes and training are absolutely essential for the venture to be a success. Many people are inspired to become life coaches through the encouragement of friends who recognise that they have a natural flair for coaching, or through experiencing good coaching themselves. However, it's worth getting some independent, professional training to confirm all those well-meaning hunches before you give up the day job.
The coaching course offered by ITS is ICF accredited and will help you start working towards your own coaching career. Plus, the training you undertake to become a life coach will inevitably help you to crystallise your own goals as well as helping you to develop crucial skills around empathy, rapport and communication.
Business & Executive Coaching
What is the difference between business coaching and executive coaching?
While a business consultant may provide strategic advice to clients, the business coach is more likely to address areas such as motivation, personal productivity and effectiveness, communication and team dynamics. It is in these areas that the skills you can achieve from an ITS course can truly come to the fore and make real differences to client businesses.
An executive coach will again focus more on the personal and interpersonal aspects of business performance, but is more likely to be working with individuals working at the higher levels of their organisation's hierarchy – for example those in a leadership, managerial or C-Suite role
What makes a good executive coach?
 To become a successful Executive coach, you'll need to consider certain skills and attributes above and beyond those involved in other areas of workplace coaching. In the first instance, you will be expected to offer strict confidentiality to clients, who may well need to share sensitive information with you as part of the coaching process. You'll also need to be comfortable speaking on a level with CEOs and board members and possess the special kind of charisma it takes to build a meaningful rapport with people operating at this level.
How to become an executive coach
As with other areas of professional coaching, you may not need to demonstrate any formal qualifications or training to get started, but it's worth noting that high-level executive clients will come from a culture of optimising their return on investment, so they will expect a proven track record, and they'll insist on seeing results.
The best way to ensure you have the key competencies demanded by this sector is to invest in some high-quality ICF Accredited coaching training from a professionally recognised organisation like ITS.
Career Coaching
Becoming a Career Coach
A career coach typically helps clients to identify their skills and passions and to navigate the complexities of the job market.
In addition to the skills necessary to help someone achieve their potential it's a good idea for a career coach to find a niche – to specialise in a particular sector or group of industries and develop experience and expertise in the cultures and hierarchies of these working environments in order to deliver the best quality coaching.
What is coaching in the workplace?
The majority of people who come to us to learn about coaching are hoping to apply their new unique coaching skills in the workplace.
Whether we're talking about the coaching that occurs during time specifically set aside for training, or the coaching that is ongoing throughout the working week, most businesses have a need and interest in colleague development. Companies that prioritise this find that they boost performance, create happy and competent teams and develop future leaders.
While some organisations will be large enough to employ training departments, a lot of workplace training will happen at the hands of managers and team leaders. Often, individuals that are promoted to these roles have achieved that status for valuable skills outside of the coaching sphere. Nevertheless, when coaching becomes part of what you do, it's a fantastic opportunity to develop your own coaching skills for the good of your team.
At ITS, we value good coaching extremely highly – after all, it's what we do. That's why we offer valuable materials on the subject, such as online resources, webinars and literature in addition to our expert-led workshops and our ICF Accredited Coach Training Programme – Mastering The Coach Approach.
The trainers on Mastering The Coach Approach are four renowned Master Coaches from different schools of thought: Ian McDermott; Pamela Richarde; Terrie Lupberger and Professor Patricia Riddell – each offering their unique perspective on coaching practices.
If taking up some coaching training sounds like it's of interest to you, why not take a look at our Mastering The Coach Approach, or give us a call on +44 (0)1268 777125