High Impact Intentional Fellowship
Live & Online.
Two special sessions with Robert Dilts & Ian McDermott
Join us if you want to enhance your vision, honour your mission and have the support of others to increase your creativity, contribution and ability to make a difference.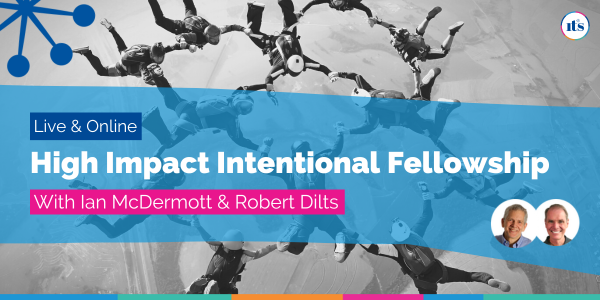 Intentional Fellowship is the product of a mindset and a desire to create something meaningful with others in service of a higher purpose.
It is a mindset that can unite people from completely different backgrounds and skillsets. While it often leads to the successful accomplishment of goals, this outer success is always a consequence of strong relationships that also support an inner journey of personal evolution.
In our experience, Intentional Fellowship can have a powerful impact, both in terms of results created in the world and also the effect it has on those participating in making this happen. Speaking for ourselves, it is the basis of our friendship and working partnership which has extended over thirty years. It is responsible for so many of our generative initiatives and the success they have enjoyed. You might say it's our "secret sauce."
This is because Intentional Fellowship calls on us to:
Use our unique abilities in service of something bigger
Connect with each other in a way that is reciprocal and joyful
Be more agile, entrepreneurial and impactful.
In these two sessions we'd like to share with you how we do what we do and invite you to join us in creating your own intentional fellowship.
Session #1: Laying the Foundations for High Impact Fellowship
Tuesday 18th April 2023, 7pm to 8.30pm UK time
In this first session, we will present the key elements of a fellowship mindset and the practices necessary to create high impact results with others.
Online bonus: Access to the Fellowship Mindset Scorecard
Session #2: Putting the Fellowship Mindset into Action
Tuesday 2nd May 2023, 7pm to 8.30pm UK time
In session two we will show how to apply your personal results from the Fellowship Mindset Scorecard and leverage your impact by creating intentional fellowships with other members of this evolving community.
Your trainers